I want to thank the Lord for some of the JOY He has put in my path this week!!
*Encouraging texts help me get through my day! Special friends that take time out of their busy lives to send me a text with scripture or that they are praying for me brings me a lot of "JOY"! Lift your friends to the Lord and let them know about it! They will appreciate it, I KNOW!
*On my way home one day this week, I was feeling worn out and tired. Not so much physically, but spiritually. I was asking the Lord to give strength and power to handle the evening. (I have a friend that calls getting home, homework, supper, etc - the witching hour) Sometimes I feel that. And I am the WITCH. I am really working on that part of me. I find it hard to keep myself together, and I am diligently working on that area of my life. While sitting at a stop light, I look up and see a sign with the same words......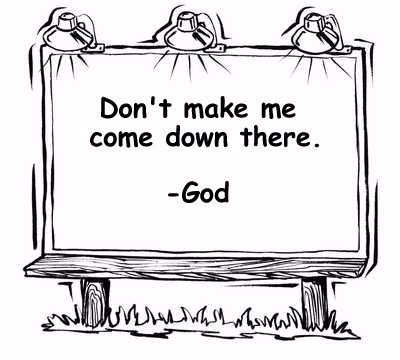 that cracked me up!! How many times have I said to my boys, "don't make me come in there!"????
Love how He puts things in my path, just when I need it!! A great way to start my evening! And wondered, just how many times has he said that to me??
*Had lunch with Leslie. We haven't had much time to talk or to catch up lately. I am so thankful for her!! And that she works close by. We are going to have to have lunch more often! Nothing like catching up!!
*Went by a friend's house to drop something off. Wasn't expecting to stay but a minute. Got to sit, talk & pray for a short time. What a blessing that was for me! Little did I know that she had a rough day and God used me stopping by to encourage her. Little opportunities that I normally let slip by, because I am RARELY spontaneous like that.
* My husband.... because he puts up with my nonsense. Thankful that the Lord gives him patience with me.
*God's word has brought me a lot of JOY this week. He is for me! He loves me so much. He loves me enough to put me on a path that is for my good and His GLORY! May I follow in obedience.
*Now, I am not a "snow" person, but I have seem some JOY in my children (and some of my silly friends, you know who you are!!) at the mention of snow in the forecast. If it does snow..... I may like it for a moment....its been raining here ALL week! So it would be a welcome change. :) If it could just wait til Friday, that would be even better!
I love that the Lord chose JOY for my 2013 word. May I continue to look for JOY in my life! How about you? Have you experienced any JOY this week??