Hello Monday!
Not exactly lovin' this Monday. I must get over myself today.
Really.
It's not about me. It has never been about me.
So there. I am D.O.N.E. Done with my pity party moment.
On to something else. I have a confession. I am a Pinter*st addict. Although, I have been much better and spent a lot less time on there in recent months. I thought about camping out there for a couple hours on Friday. We had a bit of an ice storm on Friday (yucky mess, not worth the cold, ready for Spring!!) so we were in for the afternoon and evening. I don't know about you, but when we are cooped up, it seems as if all we do is eat. So I hopped onto my Pinter*st boards and picked out some quick & easy something to try.
I had already decided we would have Homemade Chicken Noodle Soup for supper. So, I thought I would try out this.... Bub had seen it somewhere,(he loves all things peanut butter, chocolate and Or*o) I had pinned it. Just so you know, I didn't take pictures, these are from Pinter*st. Who thinks of taking pictures when its time to eat??
From hercooking.com

Ok...this was an almost fail for me. I used paper liners which the Ore* stuck to. But, other than struggling with the paper they were good. If there is a next time...skipping the liners.
So, we get up Saturday morning thinking we are in for the day. NOT. Roads were clear (even though the driveway was not) so Kea's ballgame was just delayed an hour.
So I quickly made this little number for breakfast.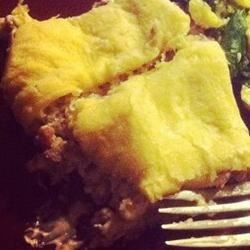 http://allrecipes.com/recipe/simple-sausage-casserole/
Very good!! This one will be a keeper. It would probably be good with eggs too.
We get to the game and we have to forfeit. Some parents are smarter than the average Recreation Coordinator and stayed at home. But, the boys got to play 4 on 4 and it was fun watching them play. Kea did great, and had several rebounds. But, bless him, he was tired. Never, has he played the whole game. HA!!
We get home and as usual my crowd is hungry. Luckily for me I already had this idea on my mind. VERY quick and easy. May add this to the quick night meal list! So easy the kids could handle making this!
Saw the picture http://www.nceasyfood.org
I used my regular size muffin tins, (next time maybe I will use my mini muffin tin) and cut up hot dogs into bite size pieces, and I put about 3 or 4 pieces of hot dogs into the cornbread mix. They went over pretty well. Of course they were more crumbly than a regular corn dog. But, I for one liked them much better, because I am not much of a corn dog fan. But, I definitely like some cornbread!!
No Pinter*st for supper. Bub had a game in Egypt. (seriously on the OTHER side of the county) So we went and got a burger at Jake's Wa*back Burgers before the game. So yeah, we went all out for dinner. Combo $4.50. What a deal!!
One more and I really must go... I needed a dessert for a Youth/Children's Ministry planning meeting for Sunday. So Sis, who loves Pinter*st,(she is the crafty one!) looks for a recipe while we are at Kea's game. OH BOY was this one good!! AND SUPER EASY TOO!!! We made it in less than 15 minutes!! Kea & Sis chopped the candy bars and I mixed the ingredients (cream cheese & Co*l Whip) and Wha - la!!
http://www.cookiecrazedmama.com/2012/01/butterfinger-pie.html
Oh dear... I could probably have eaten a half of a pie. You can find the recipe at the link listed above. I used a 16oz container and got a chocolate pie shell and a graham cracker shell so I could make two pies. (you could make your own but my time was very limited) And I am trying to adopt K.I.S.S. in my life. (keep it simple sister!!) (I could probably use fat free Co*l Whip & reduced fat cream cheese to reduce the calories, maybe next time.... or NOT!!)
Ok, fess up.... are you a Pintere*t addict?
If so, what have you tried lately??